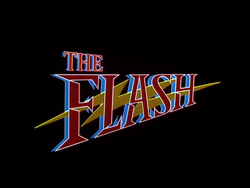 Image
The Flash title card.png
---
---
---
---
---
Airdate
September 20, 1990
---
---
"Pilot" is the first episode of the first season of The Flash. It premiered on September 20, 1990.
A laboratory accident endows a police scientist with the ability to move at superhuman speed which he uses to battle a menacing gang as a superhero.
Guest stars
Edit
Michael Nader as Nicholas Pike
Tim Thomerson as Jay Allen
Priscilla Pointer as Nora Allen
Lyuca Naff as Lila
Richard Belzer as Joe Kline
Robert Hooks as Arthur Cooper
M. Emmet Walsh as Henry Allen
Patrie Allen as Eve Allen
Biff Manard as Michael Francis Murphy
Vito D'Ambrosio as Tony Bellows
Wayne Pére as Rick
Justin Burnette as Shawne Allen
Eric DaRe as Tyrone
Ricky Dean Logan as Scott
Mariko Tse as Linda Park
Sam Vlahos as Dr. Lawrence
Josh Cruze as Petrolli
David Crowley as Swat Captain
Virginia Morris as Mother
Richard Hoyt-Miller as Young Father
Jan Stango as Young Mother
Brad Sevy as Waiter
Frank Foti Jr. as Security Guard (uncredited)
Christopher Murray as Highway Patrolman (uncredited)
References
Edit
Ad blocker interference detected!
Wikia is a free-to-use site that makes money from advertising. We have a modified experience for viewers using ad blockers

Wikia is not accessible if you've made further modifications. Remove the custom ad blocker rule(s) and the page will load as expected.